ISSA Specialist in Sport Nutrition SSN Certificate
This 150 hour course which allows 6 months to complete from date of enrolment gets you Certification which lasts 2 years.
This allows you to be insured to give nutritional advice to clients and write diet plans. It prepares personal trainers to expand their practices into the specialised area of sports nutrition. You learn how to optimise client performance with performance nutrition.
All the testing is completed online, the final exam is online, open-book, untimed, and can be completed over multiple sessions. The learning materials are available online and/or will be shipped to you to study in book form.
What You'll Learn From The Sport Nutrition SSN Certificate Course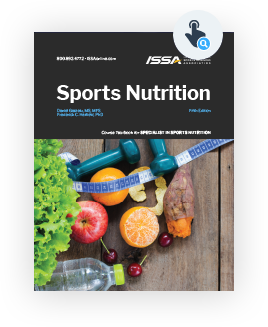 The course material is continually updated so you can be sure you're receiving the most accurate and up-to-date information available.
Explain how proper nutrition improves both physical and mental performance.
Describe the structure, metabolism, and dietary sources of carbohydrates, fats, and proteins.
Identify dietary sources, functions, the effects of deficiency, and the effects of surplus for various micronutrients.
Recognize the different type of nutrient sources available to the athlete and the variables that determine if the nutrient source is beneficial for the athlete.
Explain the components of cell structure, energy transfer, anatomy and physiology of digestion, and metabolism.
Conduct body composition assessments and calculate energy requirements.
Analyze dietary strategies for fat loss and muscle gain.
Construct custom nutrition plans for clients based on his or her sport, age, size, and performance objective.
Additional Course Information
The course can be extended by 2 months for an additional cost.
There is one free retest exam if you fail and you are only retested in your weakest areas. Anything after the free retest incurs a USD$50 administration fee.
After 2 years you are required to get 20 hours of continuing education units per 2 year period to maintain your certification.
There is a USD$99 renewal fee every 2 years once you are certified, unless you take ISSA education courses for the 20 hours of continuing education then ISSA waive the fee
Upfront Fee: AUD$1050 + shipping